Bean Bag Chairs & Fun Furniture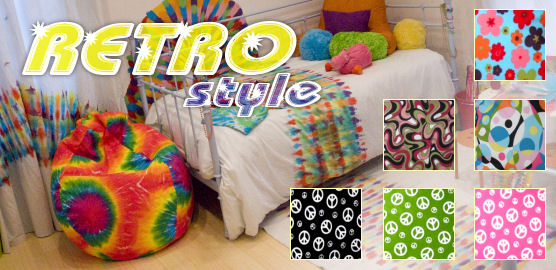 Hot Bean Bags has the Hottest Styles of Bean Bag Chairs
Why shop at HotBeanBags.com? We have hundreds of bean bags to choose from in different sizes, colors, and materials. Our huge selection allows you to find the perfect chair. Our website was designed to make shopping for bean bag chairs fast, easy, cheap, and fun. If you prefer to order by phone, call us toll free at 1-888-748-BEAN and talk to a live person! Call our expert staff if you have any questions regarding the products on our website.
Since 2003, we have sold thousands of bean bag chairs. Whether you are looking for the perfect gift for a child or grandchild, or a fun piece of furniture for yourself, you are bound to find it at Hot Bean Bags. Our exciting collection of bean bag furniture contains a wide variety of sizes, colors, and fabrics for kids and adults. Most bean bag chairs are delivered in 3 to 6 business days (unless otherwise noted).
All of our bean bags and foam-filled chairs are made in the USA. High quality and first-rate craftsmanship goes into every product. We also create full color custom printed (personalized) bean bags chairs for you or your business. Looking for a chair in a particular fabric? We can custom make our Classic Bean Bags using material or fabric you provide.
We carry the coolest line of fun furniture from Jaxx. Check out the latest Jaxx Sac styles. For a limited time, we are offering free shipping on all Jaxx products.
Are you looking decorating ideas for a certain room in your home? Enhance any room decor with bean bag chairs or inflatable furniture. HotBeanBags.com provides articles and tips to help you make decorating decisions for your home. If you are having trouble trying to decide which bean bag color or style to order, check out our decorating articles.
Creating a decor theme? Check out some of our styles:
Retro Theme | Outdoor Living Theme | Pirate / Nautical Theme | USA Patriotic Theme