Custom Bean Bags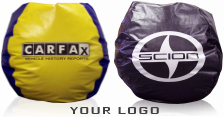 HotBeanBags.com offers custom bean bag chairs for your business or event. The bean bags are printed with your logo on the middle panel. One, two, or three color logos can be printed on our Shiny Vinyl or Satin Vinyl bean bags. The bean bag chairs are approximately 30" x 30" x 30". The print area is approximately 18" x 18". Call 1-888-748-BEAN to place a custom print order.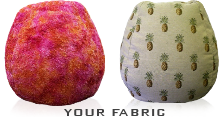 HotBeanBags.com now offers custom bean bag chairs made with fabric or material you supply. Once we receive the material, it is cut and custom-manufactured into our Classic bean bag shape. Each chair is uniquely yours, designed specifically for your decor or purpose. Call 1-888-748-BEAN to place a custom fabric order.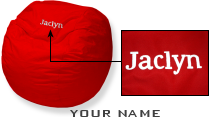 HotBeanBags.com now offers personalized embroidery on our FUF Chairs. Add up to nine characters to of white lettering to any of the chairs in our FUF Chair selection. Text is sewn on the center of the foam-filled chair. Available in sizes for kids and adults. The personalized embroidery makes a great chair even greater! Call 1-888-748-BEAN to place a custom embroidery order.
There are many exciting bean bag furniture products on the market today. Through our unique relationship with suppliers and manufactures across the country, we are able to order specialty products that are not found on most e-commerce sites. These products typically require special transportation arrangements due to size. Please contact us to place a special order.
Product names, brands, and other trademarks featured or referred to on this website are the property of their respective trademark holders. These trademark holders are not affiliated with Hot Bean Bags, our products, or our website. They do not sponsor or endorse Hot Bean Bags nor any of our products.
SHOP BY AGE
SHOP BY SIZE
SHOP BY FABRIC / MATERIAL
SHOP BY PRICE
SHOP BY BRAND
BEAN BAG ACCESSORIES